Historical Context of Monument's Construction
1860s – 1920s in Caddo Parish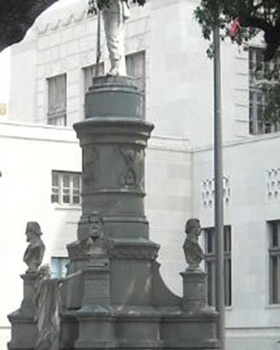 The end of the Civil War brought the beginnings of civil and political freedom to African-Americans. Blacks were given the right to vote and serve on juries through the Fourteenth Amendment, and in 1865, the Freedmen's Bureau assisted former slaves in Caddo Parish to secure fair-paying jobs, medical care, and education; they established elementary schools for black children; and they negotiated labor contracts with former slave-owners. African-Americans now outnumbered white citizens both in population and in eligible voters. With the help of these black voters, the 1868 Constitution of Louisiana — providing universal suffrage, a guarantee of equality, and a formal Bill of Rights — was ratified.
Nevertheless, these reforms were met with harsh and often violent resistance from some whites in Caddo Parish. There were 566 homicides in Caddo in the decade following the Civil War, giving the parish its nickname, "Bloody Caddo." Violence towards African-Americans was highly-organized and often occurred en masse; about forty percent of white men in Caddo between the ages of eighteen and forty-five were involved in these murders. "Caddo Parish Bulldozers," those who participated in violently intimidating blacks and Republicans, lynched at least twenty-one blacks in Caddo from 1900 to 1923. This violence was encouraged in The Shreveport Times, the most widely circulated newspaper in the area, which urged white citizens in Caddo to participate in violence against Republicans and African-Americans leading up to the 1868 election. In the months before the election, almost 200 blacks were killed.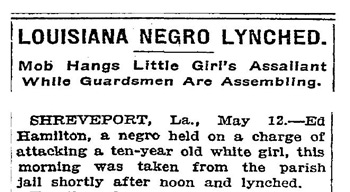 Whites who feared the political power of Africa-Americans sought legal measures to undermine the expansion of their rights. New suffrage laws passed, and the 1898 Constitutional Convention saw the complete disenfranchisement of Louisiana African-Americans through education and property qualifications. These measures were very effective – between 1887 and 1890 African-American voter registration dropped by 96% while white voter registration only dropped by 24%.
It was within this period of deep and widespread resistance to the political and civil advancement of African-Americans that the Caddo Parish Policy Jury voted on June 18th, 1903 to allow the United Daughters of the Confederacy to erect a Confederate monument in a plot of land outside the Caddo Parish courthouse.

An excerpt from a newspaper article in the Shreveport Times from 1903.